Discover the skills you already have that can change a child's life!
Take our quick quiz to find out if you meet the basic qualifications to become a foster parent with us.
If you have the heart to serve our local youth we need you!
We understand there are so many questions as you start thinking about becoming a foster parent. At People Places, we provide support as soon as you pick up the phone. We enjoy building and maintaining relationships because we care about you and your family. 
What We Do:
Orientation – Join us at an orientation session to hear more about fostering and whether or not it is best for you. At these sessions, you will meet staff and other prospective parents in the People Places family as we work to answer any questions and address any concerns you may have.
Honest Conversations – When we first meet, we will listen closely to questions, provide feedback, and discuss your hopes and expectations. We will walk you through the process and explain everything you need to know about life as a foster parent.
Parent Skills and Training – Once you have made the decision to move forward you will participate in our unique trauma-informed training, which is a nationally recognized curriculum focused on developing specific skills for therapeutic foster parents.
Matching – When children in our community are in need of our services, matching them with a family that has the tools to help them thrive is our top priority.
Ongoing Support – When you become a foster parent with PPI we go above and beyond to provide ongoing support, training and guidance. You have a team dedicated to your success as a foster parent with 24/7 crisis support and other therapeutic services.
Adoption Support – If your foster child becomes available for adoption, we help prepare for this transition.
See the list of services we provide for children and families.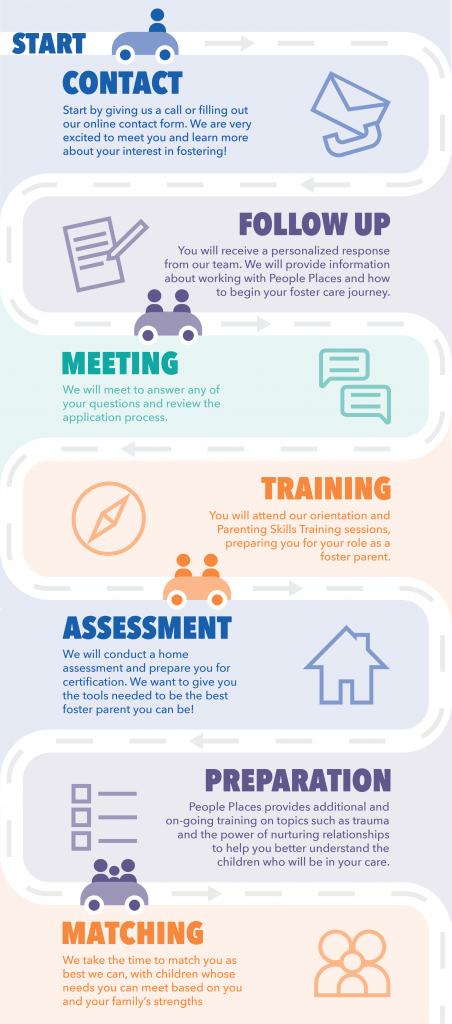 Considering becoming a foster parent? Take the quiz to find out if you are ready.